Corner Brook United Soccer Club bringing back the Douglas Quigley Memorial Junior High Soccer Tournament
---
---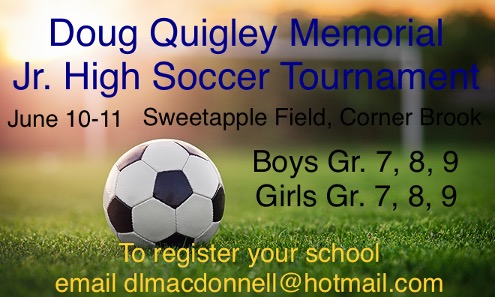 ---
Corner Brook United Soccer Club (CBUSC) is inviting junior high schools in western Newfoundland to participate in the Douglas Quigley Memorial Junior High Soccer Tournament.
The tournament started many years ago to honour Quigley, a young soccer player from the city who died in a bus accident while enroute to a tournament in St. John's in 1979.
It was started by Quigley's former coach, Eugene Cook, to play tribute to the young player who was just 14 when he died and to provide a venue for youth soccer in the city.
Past tournaments have featured teams from Corner Brook, Stephenville and Deer Lake.
The last news coverage of the tournament that we could find was from 2009 when Presentation Junior High girls beat G.C. Rowe in the final and in the boys' division it was the reverse with G.C. Rowe taking the win over Presentation.
This year's tournament will take place on June 10 and 11 at the Doug Sweetapple Soccer Field on Wellington Street in Corner Brook.
There will be two divisions junior high girls and junior high boys. Teams can be formed by a combination of students from Grades 7, 8 and 9.
If your school needs assistance finding a coach CBUSC will be happy to assist you in finding one.
Game format will be 9 versus 9 and includes a goaltender. Each match will consist of two 30-minute halves.
The tournament format will depend on the number of teams registered but will likely be a round-robin format
Medals will be awarded for 1st, 2nd and 3rd place as well as a banner for the first-place team to display in their school.
The tournament fee is $100 per team.
Registration must be completed by Monday, May 16.
To register your team, please contact Deidre MacDonnell at dlmacdonnell@hotmail.com.